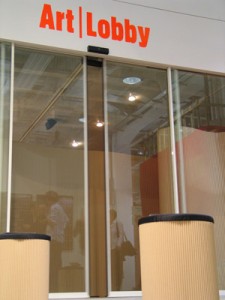 it has more than done justice to its good reputation. with a record number of over 60,000 visitors from all over the world, the "finest" (le monde), "most influential" (newsweek) and "most important" (süddeutsche zeitung) international fair for modern and contemporary art took place in switzerland from 13 to 17 june 2007. never before has art basel attracted so many significant collectors and famous artists, and never before have the galleries taking part recorded such good sales results.
well ausstellungssystem gmbh took part in the leading art fair worldwide as a material sponsor for the first time: the meeting point "art lobby" designed by bernard tribolet was designed with the help of wellboard medium and minimum. the basel designer and architect used the corrugated wooden material for covering the walls and for manufacturing about one hundred seats.
the "art lobby" proved to be the central communication platform of the art fair. samuel keller, the head of art basel, was not the only one to be enthusiastic about the flair of the room. international vips like the Italian architect and designer ettore sottas, the american artist elaine sturtevant and okwui enwezor, the former artistic manager of the documenta in kassel, were soon talking away and comparing notes on a high level.

tribolet.arch gmbh
markgraeflerstraße 34
ch-4057 basel
tel.: +41 – 61-6811974
fax: +41 – 44-3553285
www.tribolet-arch.ch
mch swiss exhibition
art basel
ch-4005 basel
tel.: +41 – 58-2002-020
fax: +41 – 58-2062-686
www.art.ch