Tips, ideas and a discount
Your school has a laser cutter or is planning to purchase one? 
That's great! Because for you and your learning group, that means: countless possibilities for hands-on projects, exciting experiments and creative experiences…
In the next step, you need a laser material that can handle everything you plan to do with your learning groups. But it should be sustainable, safe and easy to process? 
We offer you facts and application ideas on the subject of kraftplex and school! And in the end, learn how you can get a discount on your first order as a representative of an educational institution.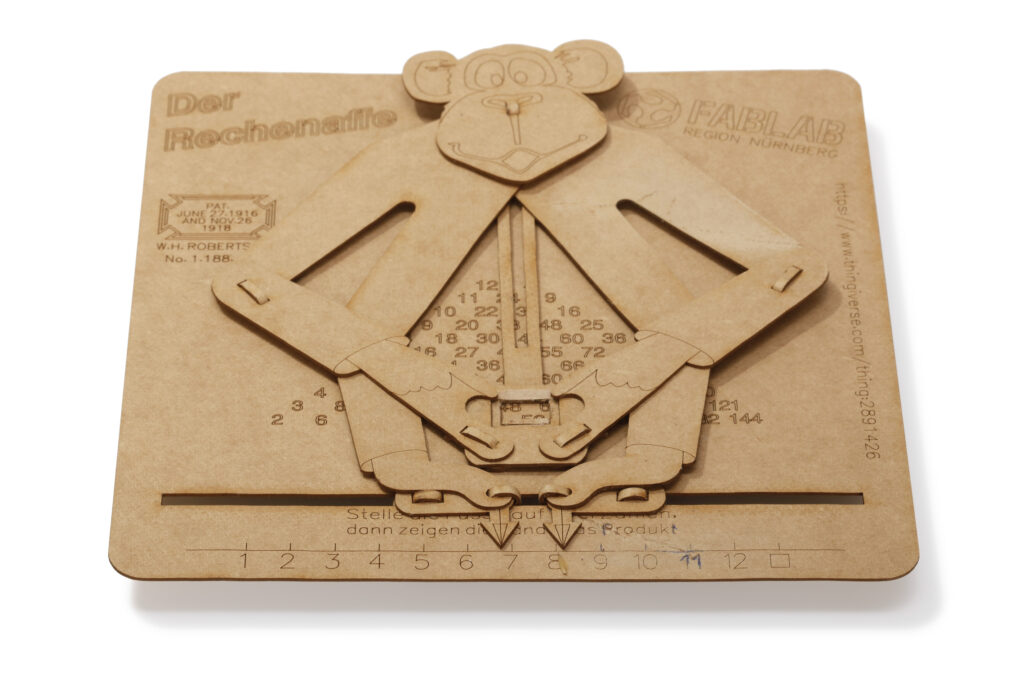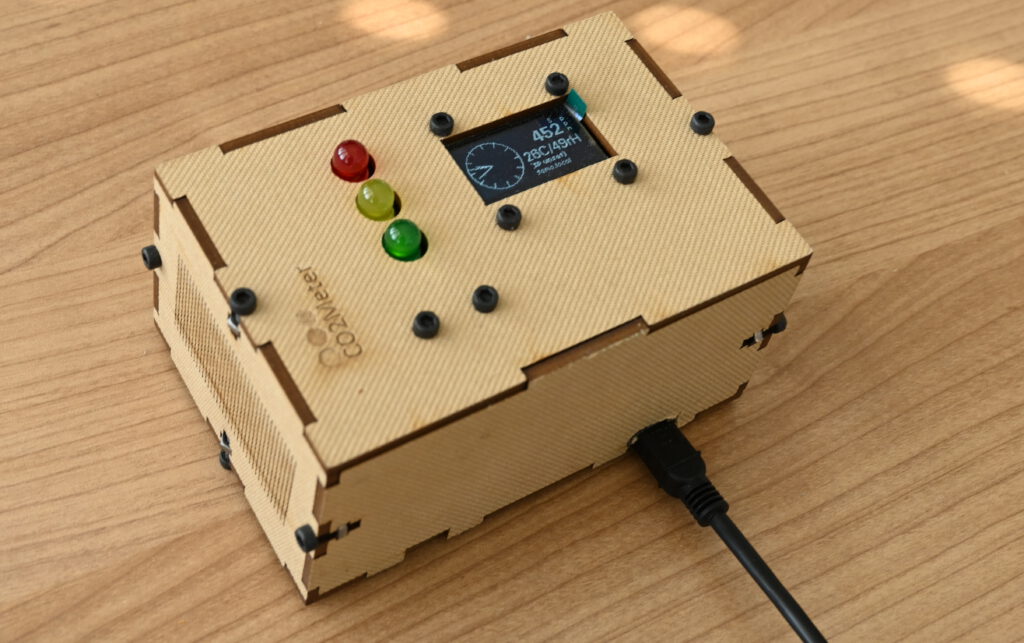 Why use kraftplex in the classroom?
The most important thing right at the beginning: kraftplex is a very safe material for children. It is certified according to the DIN EN 73-1 standard and is therefore even suitable for the manufacture of children's toys.
With our material, you bring a completely natural material into the classroom. This is because kraftplex consists of 100 percent unbleached cellulose fibers that are pressed into boards using thermal energy. The material contains no adhesives or other chemical additives.
In addition, kraftplex is particularly unbreakable and tear-resistant. The material is suitable for laser cutting and filigree cutouts. It can also be bent and shaped – which is why kraftplex is nicknamed "wood sheet".
However, our material is not only flexible, but also very robust. Unlike other materials, you don't have to worry about broken edges. This means that even if a student treats kraftplex a little more roughly, the end result is still successful and the risk of splinters or other mishaps is minimized.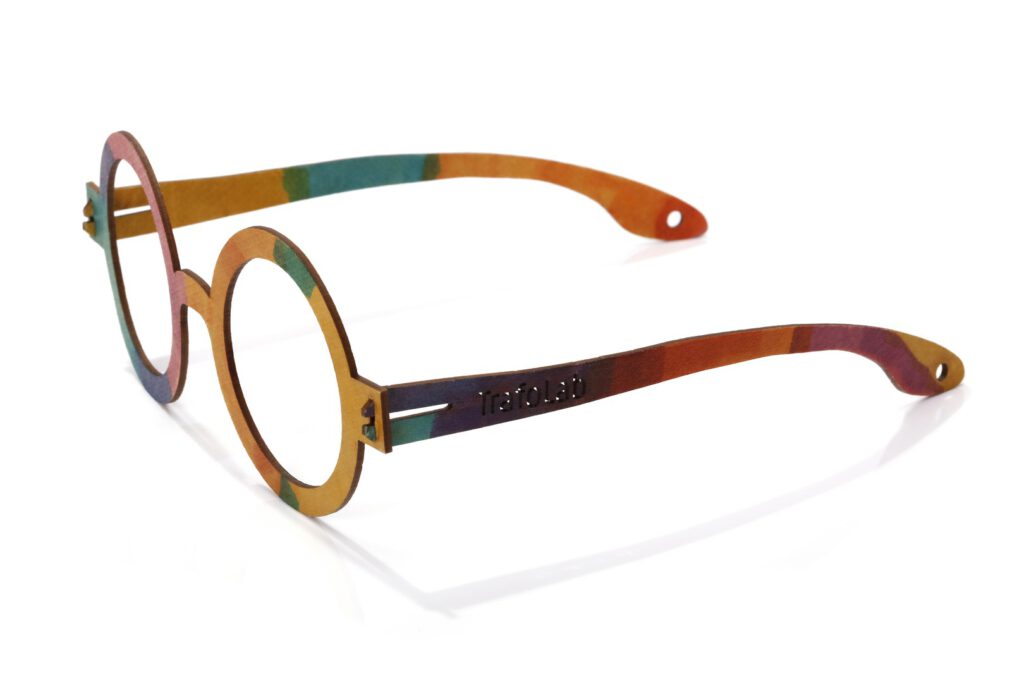 Application examples: Teaching with kraftplex
In kraftplex projects, students can express themselves creatively. There are a variety of project ideas for almost every subject that enrich the curriculum and everyday school life. Here are five examples of how kraftplex has already been used in the classroom.
kraftplex in math: an educational game
Primary school teacher Erik's students learn the multiplication tables with this board. The principle is the same as with Tic Tac Toe. One child plays with the triangles and one with the pentagons. The first to have three pieces in a row wins. The trick: Only numbers that match the row selected for the round may be used as tiles. For example, 16, 32 or 64 for the row of 8.
Credit: @schule.holz/Instagram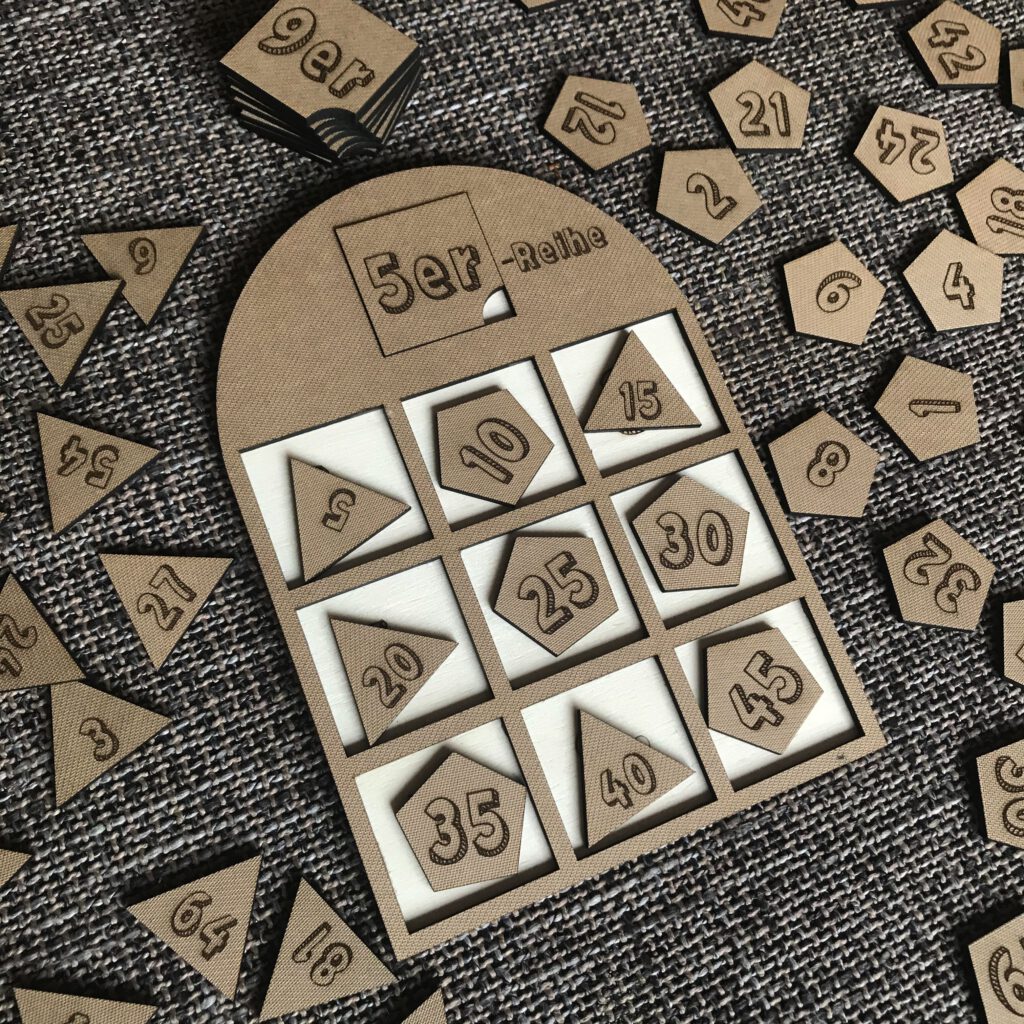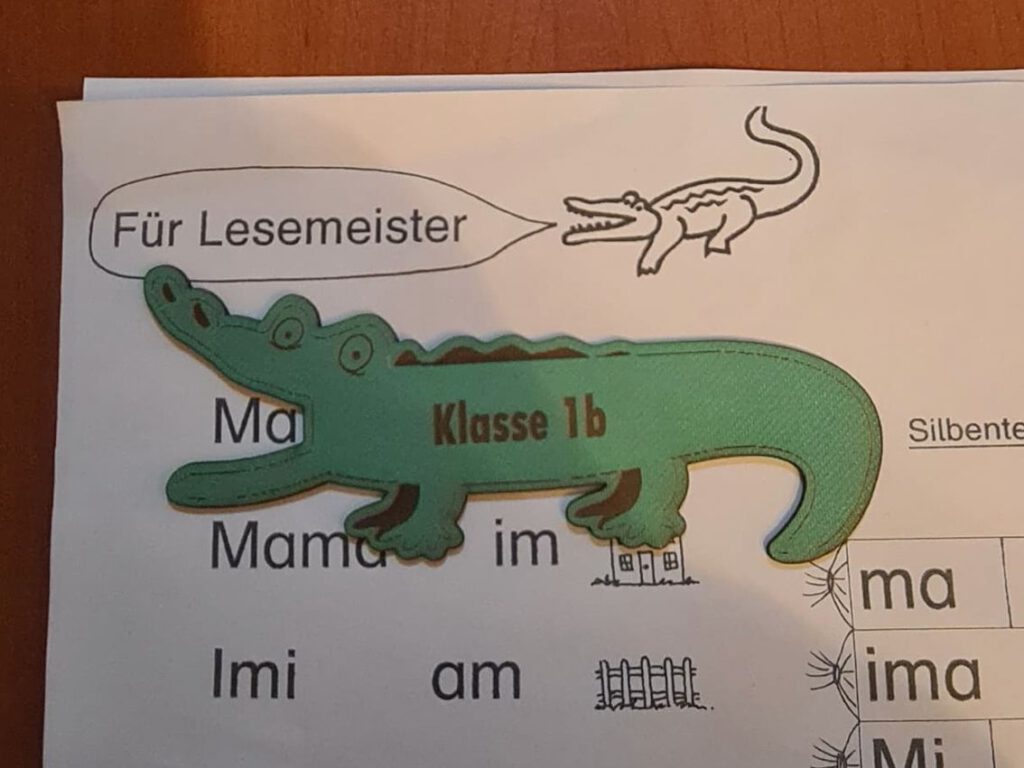 kraftplex in Language class: a reading crocodile
This crocodile doesn't have sharp teeth, but it does have a mission: to help children learn to read. "Lasts much longer than a paper reading crocodile," says Anton Meinelt. He cut the animal out of kraftplex with a laser cutter and then painted it green with natural wood paint from the wood care manufacturer PNZ. Because kraftplex can be colored, engraved or printed.
Credit: @schwaben_murks/Anton Meinelt/Instagram
kraftplex in the project week: a marble run
kraftplex can also be used in the project week or in the subjects of technology and physics. Since the material is robust, stable and yet flexible, it is suitable for all kinds of apparatus. For example, how about building a motorized marble run with the students? This trains the children's fine motor skills, technical understanding and logical thinking – and they are sure to be fascinated by the result.
Credit: Jürgen Weigert
kraftplex in handicrafts: an organizer
If the desk doesn't get lost in chaos, it's easier to concentrate when doing homework. So that all pens, erasers and rulers have their place at home, such an organizer is practical. This one was laser-cut by Patrick Jung, better known as Youtuber "Zwo Linke Hände." "With the laser cutter, the Epilog Mini 18 from cameo Laser, something like this is a breeze," he says.
Credit: ZLH-Werken/Youtube/Patrick Jung
wellboard in arts: a picture
In this project, the whole class can participate – and in the end create a work of art together. Our second material, wellboard, served as the canvas here. Just like kraftplex, it consists of 100 percent cellulose fibers, but is pressed into a wave shape. It can be painted with acrylic paint, as in this example. The result is art, but it can easily be moved. Because wellboard can be rolled up and thus stored in a space-saving way.
Credit: Melina Magiroglou/kraftplex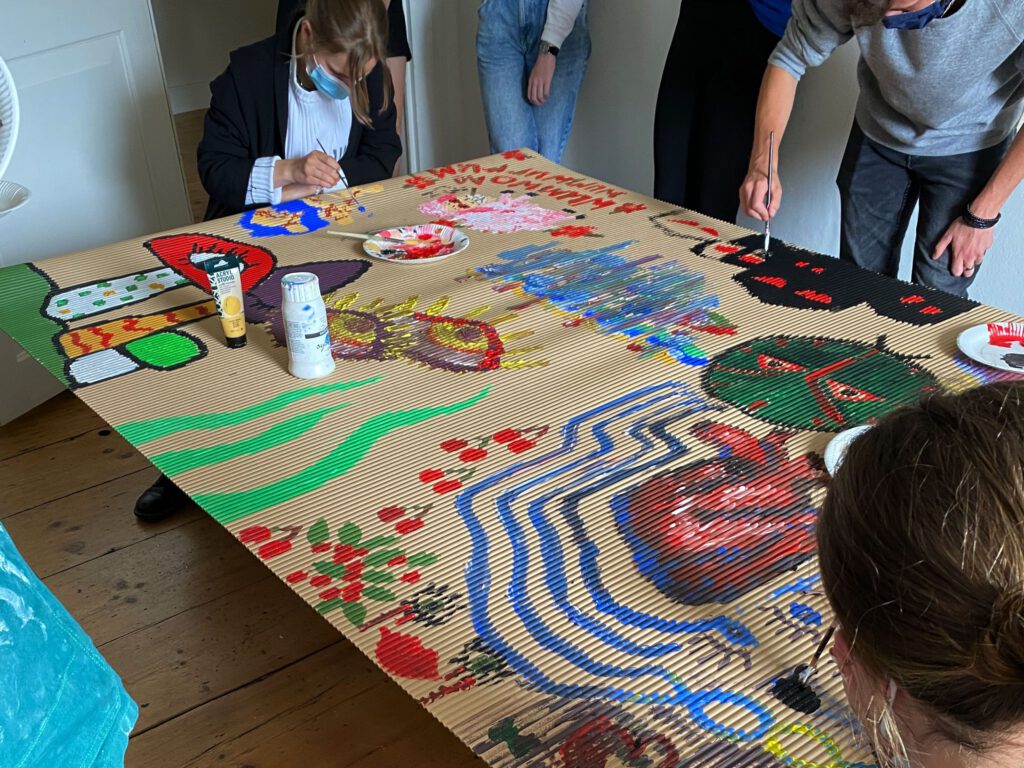 cameo Laser is the contact for everything to do with lasers for schools
To bring laser technology to your own school, a device from cameo Laser is the right choice. The company's customers include schools, fab labs and universities throughout Germany. On its website cameo Laser shows what results and learning effects have been achieved so far with laser cutting, laser engraving and laser branding.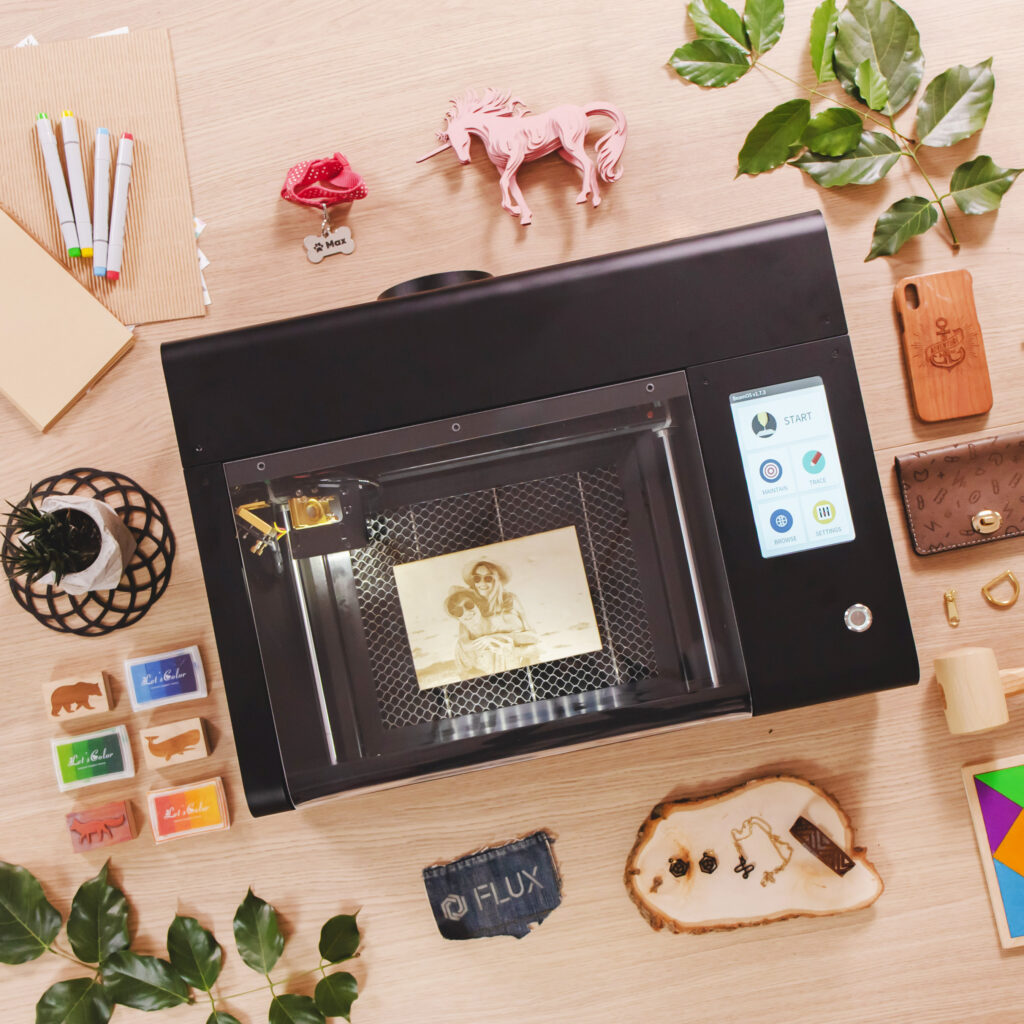 More than 20 years of experience with laser technology, individual consulting and regular webinars – also for beginners – make cameo Laser a competent partner for your school. For educational institutions, the company grants a discount and also offers rental equipment. Interested? Visit cameo laser for more information and contact details.
10% discount on your first order at kraftplex
kraftplex is the green laser material of the future. That is why cooperation with schools and universities is particularly close to our hearts. Special conditions for educational institutions are therefore possible.
Please ask for the first order discount. If you describe your project in a few sentences, you can get a 10% discount for the entire kraftplex online store.
Simply write to us via the contact form or by e-mail to info@kraftplex.com. We are looking forward to the exchange with you!