Promoting sustainable materials
What began in 1991 with the start-up well ausstellungssystem GmbH has since developed into the kraftplex® brand, under whose umbrella various sustainable wood-based materials are marketed worldwide and across all sectors. The biomaterials are made of 100 percent cellulose and are manufactured without the addition of adhesives, bleaching agents or binders.
"We see ourselves as promoters and facilitators of green materials," says founder and CEO Franz Betz. "Our vision is to bring kraftplex and wellboard into the reality of many people's lives. We want to inspire actors from different industries to say goodbye to environmentally harmful materials and develop more sustainable products. In this way, we want to fight against the waste of resources and environmental pollution and make our contribution to a climate-friendly, clean future."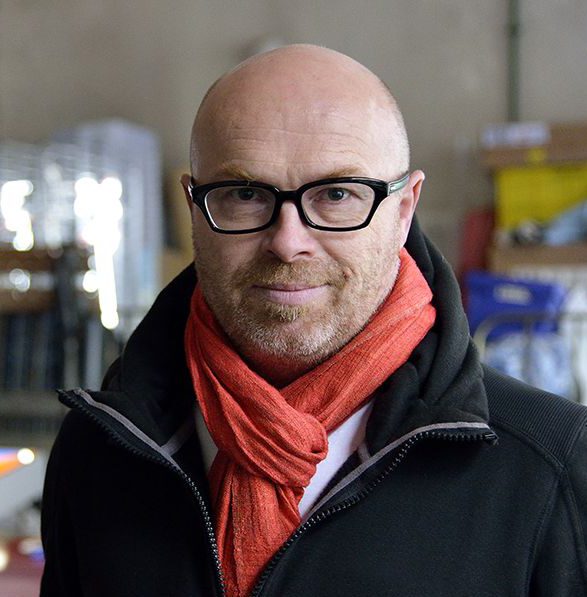 From the green board in waves...
The company's history began more than 30 years ago with wellboard, the green wood-based material in waves. In the early years, the flexible, corrugated board material was used especially in the trade fair and event sector. Over time, the customer base has steadily expanded. Today, many users come from the fields of architecture, interior design, store fitting, furniture construction and museum equipment. 
Martin Mangold, managing director of SPA GmbH for trade fair construction, has already used the material in various projects: "The material wellboard was perceived very positively by my customers in its peculiarity, stability and elegant simplicity. I like to work with materials that support a clear language of form." The timeless aesthetics of the material are demonstrated by application examples from a whole three decades in our wellboard portfolio.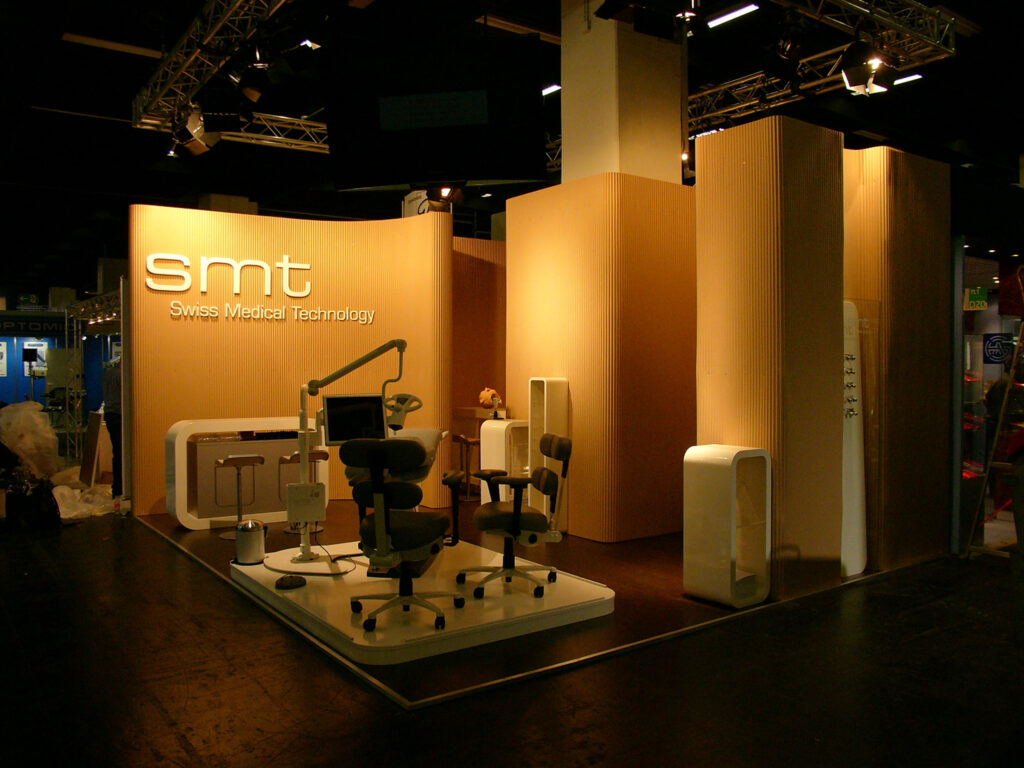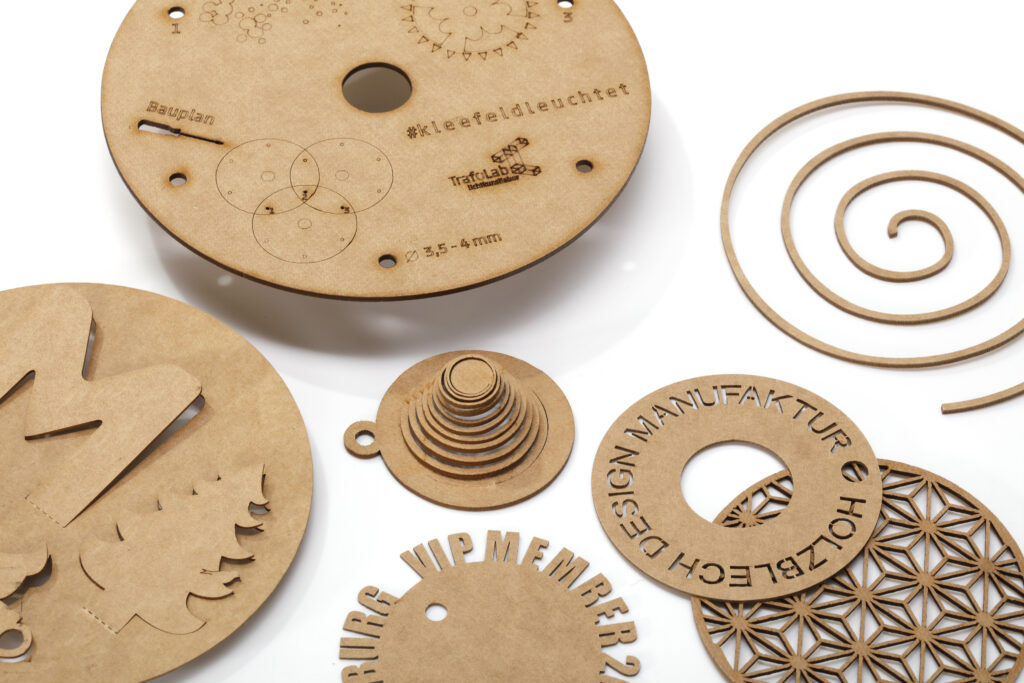 ...to the green laser material
With the increasing availability of laser technology, the second material group kraftplex became more and more successful. This is because the sheets of the various kraftplex grades are particularly suitable for laser processing. "kraftplex has the wonderful property that you can laser very filigree structures. Even less than 1 millimeter material width is no problem. You don't have to worry about anything breaking off," says carpenter Florian Schlaudt.
Yet kraftplex is not only used in industrial processing, in the packaging industry or in product design. It is also becoming increasingly popular among model makers and hobbyists as a creative material and is indispensable for many.
Product manager and Head of Marketing
Head of processing and shipping
Press and Social Media (Freelance)
"I support you in all questions regarding our products kraftplex and wellboard. I will be happy to advise you on the practical aspects of your project, such as technical solutions, material availability, delivery times and conditions."
"My tasks in the company include coordinating the teams around the topics of order processing, warehousing and goods dispatch. We make sure that your order reaches you quickly, cheaply and reliably."
"I have been advising the company on press and social media since 2020. My tasks include writing posts and blog articles showcasing creative projects from the kraftplex community."
Cooperation with social institutions in the region
The warehousing and goods dispatch of kraftplex are implemented by the occupational therapy department of the Wahrendorff Clinic in Sehnde Köthenwald. The Hannöversche Werkstätten are regularly commissioned to cut our sample materials.
The cooperation with various companies from the private sector not only offers the residents of the facilities a regular daily structure, but also enables individual support in a protected environment and, if necessary, prepares them for reintegration into the labor market. We are very grateful for the good and long-standing cooperation.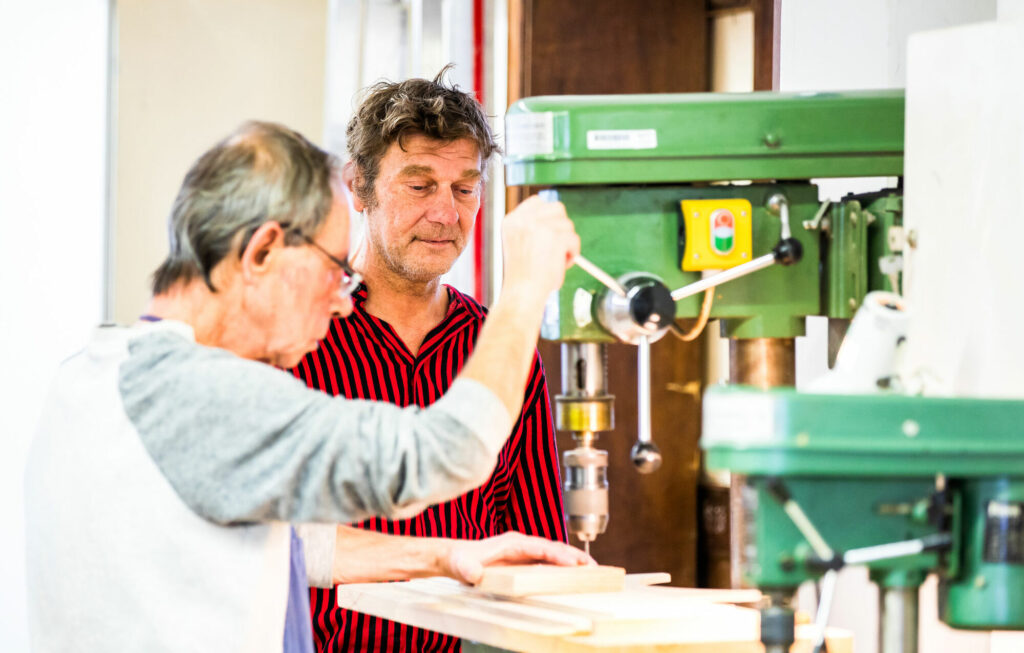 Based in Hanover, the capital of Lower Saxony, kraftplex® is part of the creative pool and network franzbetz vision. 
Behind it is light sculptor and industrial designer Franz Betz, who developed the three brands kraftplex®, f-io and trafolab® from the central components "light and material".
kraftplex®, as a natural, sustainable wood material for crafts and industry; f-io teamskulpturen for coaching, team events and city marketing; and finally the light art laboratory Trafolab®, where people can experiment and network with light and material. Today, these three areas together form franzbetz vision.
The works and projects of Franz Betz are documented at www.franzbetz.com.