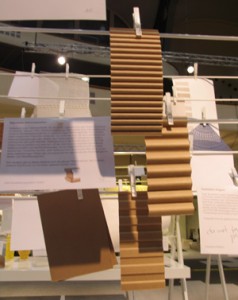 after the success of the first edition of the "design annual" fair held last year, the second edition took place from 14 to 17 june. about 70 manufacturers, designers and architects of international renown took part in the event, attracting over ten thousand private and specialist visitors to the frankfurt festival hall.
summing up, the organizers explained that the fair showed top international design from a wide range of sectors extending from furniture construction to home entertainment.
in the context of the "design annual", the special exhibition entitled "paper lab – technical papers for 3-dimensional products" attracted great interest.
in conjunction with the information and research platform materialworks as well as the technical author and materials expert nicola stattmann, visitors had a glimpse of a real wonderland centred around this flexible and highly modifiable material.
the organizers had a good reason to present the wooden corrugated material wellboard: it consists of 100% cellulose, the raw material used to make paper. the special exhibition documented new research developments and highlighted paper as a versatile high-tech material, regardless of whether it is lasered, foamed, injection moulded or processed in a kiln to produce ceramics.
"for quite a while now, materials have no longer just been considered as materials and nothing else", it say in an informative text on the exhibition. "they are instruments which help to decide on the form of the object and the impression it makes."
∙∙∙∙∙∙∙∙∙∙∙∙∙∙∙∙∙∙∙∙∙∙∙∙∙∙∙∙∙∙∙∙∙∙∙∙∙∙
∙∙∙∙∙∙∙∙∙∙∙∙∙∙∙∙∙∙∙∙∙∙∙∙∙∙∙∙∙∙∙∙∙∙∙∙∙∙
büro nicola stattmann
material technologie design
teichstraße 5a
d-60594 frankfurt am main
tel.: +49 – 69-4305-4601
fax: +49 – 69-1534-9292
www.nicolastattmann.com
∙∙∙∙∙∙∙∙∙∙∙∙∙∙∙∙∙∙∙∙∙∙∙∙∙∙∙∙∙∙∙∙∙∙∙∙∙∙
materialworks frankfurt
brönnerstraße 22
d-60313 frankfurt a.m.
tel.: +49 – 69-2972-2218
fax: +49 – 69-2972-2223
www.materialworks.com