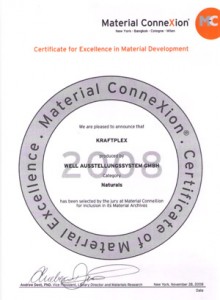 material connexion® is the leading global platform for material solutions and innovations.
with offices in new york, bangkok, cologne, daegu and milan, ,material conneXion's international network of material specialists provide a global, cross-industry perspective on materials, sustainable alternatives, and their potential uses.
the subscription-based materials library is the world's largest library of advanced, innovative, sustainable materials and processes in the world. the ever-growing physical libraries around the globe and the online database give immediate access to over 4,500 materials.
an expert jury of material specialist, responsible for the listing of new advanced, innovative, and sustainable materials in the material library has been convinced by our kraftplex material and kraftplex is now to be found online and in the diverse offices of material connexion®.
the well gmbh is happy to have received the coveted certificate of material excellence for kraftplex. kraftplex will also be presented in the "material index book" yearbook.
more information and details about material connection can be found:
material conneXion® cologne
lichtstraße 43g
50825 köln
Tel. +49 – 221- 992228 – 0
Fax. +49 – 221- 992228 – 11