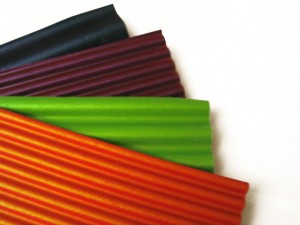 the HELICONE product range, proprietary to LCP technology gmbh, offers dynamic optical effect pigments for coatings, paints, plastics and inks. they are used for cars, cosmetics, footware, household appliances and many other applications.
the HELICONE HC innovative effect pigment has been applied in LCP-laboratory successfully to our wellboard. the combination of a reflected colour continually changing with the viewing angle and of the wellboard waves results in a very interesting and unique optical effect.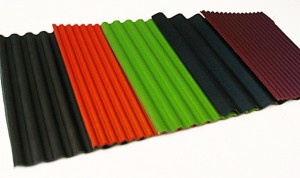 advantages of the products using effect pigments changing with viewing angle:
– effect coatings with a colour that varies with the viewing angle
– intense deep gloss
– sparkling effects
– a more or less dramatic colour transition according to the formulation
for more question concerning helicone and its handling, please contact the company LCP technology at info@lcptechnology.com.
LCP technology gmbh
johannes-hess-str. 24
84489 burghausen, germany
tel. 0049-8677-8756-0
fax. 0049-8677-8756-22
info@lcptechnology.com
www.lcp-technology.com