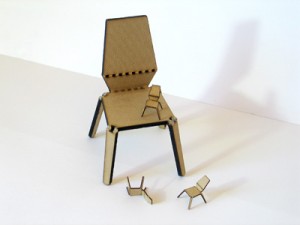 the material is stable but extremely flexible and allows permanent forming like in sheet metal processing. that is why the versatile wooden material kraftplex is perfect to be used in model construction. this is currently being demonstrated at the department of architecture of the university darmstadt. here they are producing – with machine assistance of a trotec co² laser – small model chairs on a scale of 1:50.
according to the set-up instructions these miniature furniture is very easy to assemble. first use a sharp knife to separate the model from the transport protection at the three marked points, explains university employee friedemann mey, who developed the idea and the design of this real gem. then with the help of tweezers bend in position the back and the legs of the chair. when all angles are correct, the insides of the bends should be secured with a little drop of glue.
those interested in larger quantities of the kraftplex model chairs should contact mr. mey under telephone number 06151 – 168109.
hochschule darmstadt
friedmann mey
fachbereich architektur/innenarchitektur/modellbauwerkstatt
schöfflerstraße 1
d-64295 darmstadt
tel.: +49 – 6151-16-8109
fax: +49 – 6151-16-8960
www.h-da.de
∙∙∙∙∙∙∙∙∙∙∙∙∙∙∙∙∙∙∙∙∙∙∙∙∙∙∙∙∙∙∙∙∙∙∙∙∙
trotec
schlesierdamm 21
d-30916 isernhagen
tel.: +49 – 511-615-1727
fax: +49 – 511-615-11300
www.trotec.net