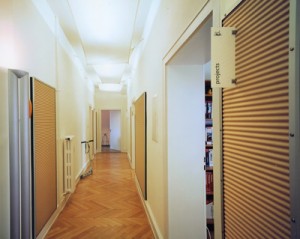 "the new design begins right at the entrance", the interrior decorator and designer anne batisweiler explains the project on her homepage: "backlit, transparent areas, combined with wave elements in a warm brown colour. by removing the low louver ceiling and putting up a backlit diffusion screen composition the entrance hall now looks much brighter. colours, material and light have been newly combined on various levels."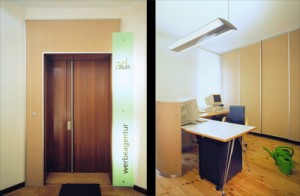 the wellboard was screwed onto l bracket frames and aluminium flat sections, fastened and bent into shape. stainless steel tie rods render additional stability to the construction. epdm profiles were placed between the metal parts and the raw, unprocessed and uncoated wooden material. there were no problems whatsoever during the work with wellboard, confirms anne batisweiler.
we congratulate on the successful redesign and wish you a lot of fun while working in the beautiful rooms.
gestaltung
anne batisweiler
dachstrasse 49
d-81243 münchen
fon +49 – 89-1550-35
fax +49 – 89-1550-36
www.anne.batisweiler.de
∙∙∙∙∙∙∙∙∙∙∙∙∙∙∙∙∙∙∙∙∙∙∙∙∙∙∙∙∙∙∙∙∙∙∙∙∙∙
fotograf
wolfgang pulver
paul-gerhardt-allee 24
d-81245 münchen
fon +49 – 89-8205-065
fax +49 – 89-8205-148
www.foto-pulfer.de
∙∙∙∙∙∙∙∙∙∙∙∙∙∙∙∙∙∙∙∙∙∙∙∙∙∙∙∙∙∙∙∙∙∙∙∙∙
adwork werbeagentur gmbh
herzog-heinrich-straße 24
d-80336 münchen
fon +49 – 89-7472-470
fax +49 – 89-7472-4724
www.adwork-muc.de