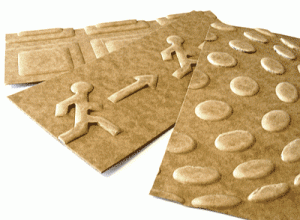 kraftplex offers unprecedented shaping options for designs developed using wooden materials. this is demonstrated by the rubber cushion presses produced by the phoenix company from the netherlands. the presses were mainly developed for the three-dimensional shaping of sheet metal parts. the fact that the kraftplex material, which is made of wood fibre, can be worked in this way is proof of its extraordinary properties.
the technique uses an impressive amount of force: with a pressing capacity of 3,500 tonnes (and even 8,000 tonnes since may 2008), a rubber block presses the raw material into (or over) a steel die. most wooden materials are not suitable for this purpose. however, when subjected to the pressure exerted by the rubber cushion, kraftplex shows its metal-like properties – the material is stable, flexible and permanently shapeable.
as the die used in the rubber cushion press consists of one part only, the resulting tool costs are considerably lower than they are in the case of other sheet metal shaping methods such as the conventional deep drawing. in addition, the technique does not require much in the way of reworking and no damage is done to the visible side.
the rubber cushion press can shape panels of material with maximum dimensions of 2,200 x 1,100 mm and a depth of 150 mm. it is especially suitable for the series production of several thousand units per year.
the various sample pressings had us totally convinced, so we have no qualms whatsoever to recommend the phoenix company if you want to put kraftplex into the desired shape competently and at a reasonable price.
metaalwarenfabriek phoenix bv
fijenhof 6
5652 ae eindhoven
tel +31 (0)40 2532944
fax +31 (0)40 2534817
http://www.phoenixmetaal.nl
info@phoenixmetaal.nl