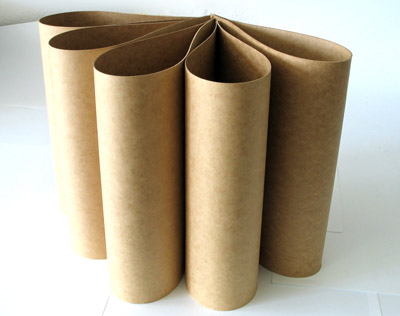 where to go with the papers?
"galaplex", the paper holder made of kraftplex 0,76 mm is the adequate answer. it has been designed and produced by sculptress rahel schröder during a materialworkshop from the " werkakademie" in lüneburg and hannover directed by tim oelker.
thanks to galaplex, papers can easily be taken out or ordered. galaplex is a smart creation which finds application for example in waitingrooms by doctos or hospitals or actually everywhere organisation and tidiness are requested and where originality, design, health and natural materials are of importance.
composed of 100% totally biodegradable cellulose, this emission free paper holder out of kraftplex can be easily fixed or simply arranged.
delivered in its natural material form, it can be painted, printed or decorated at wish. free way for everybody´s creative transformation and arrangements at home, in the office, in kindergarden, at school etc.
you can order "galaplex" easily in our shop under shop.kraftplex.com
your order will then be rapidly processed and delivered from mrs schröder. looking forward to hearing from you!
delivery: amount of compartments on demand incl. white string (0,4 cm thick)
price for each compartment: 11,34 € + vat + transport
producer
rahel schröder
spiel mit stil
vogelsang 5a
21354 bleckede
tel : 05852-9519273
fax : 05852-9588460
info@spielmitstil.com
www.spielmitstil.com