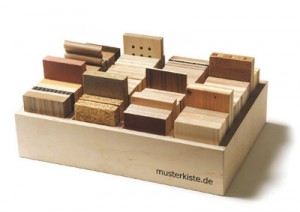 it collects over sixty samples in a handy maple box. In april 2002, the "sample box for wooden materials" was out onto the market – as a source of inspiration for planners and creative people and as a vivid aid to argumentation for talks with customers. since then the selection of conventional and special wooden materials in the format 105 x 74 mm has been updated constantly. incidentally, wellboard was included right from the start.
in addition, an extensive database is maintained under www.musterkiste.de. now up-to-date information on more than 190 wooden materials and 390 manufacturers and dealers can be found there.
besides the "sample box of wooden materials", the "sample box of types of wood" is also available. this 26-piece collection shows the wide range of European varieties of wood. the "sample box for handicrafts lessons" has also been on the market for a short while now. it contains thirteen types of wood and fifteen wooden materials and thus gives compact information on the main basic materials.
musterkiste.de
elbestrasse 35
d-12045 berlin
tel.: +49 – 30 – 6273 – 0508
fax: +49 – 30 – 6273 – 0509
www.musterkiste.de