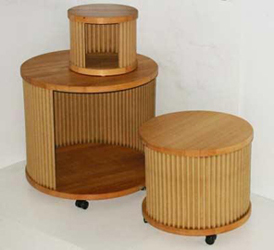 under the patronage of "öko-control" budding designers and interior architects have been developing concepts of combining ecology with furnishing. they were supported by manufacturers who are members of the association of the ecological furnishing houses.
the results are now presented in the exhibition "passages": exciting developments in the mobile kitchen world, funny ideas on the subject of dining tables, upholstered furniture in a completely new look and many more surprises.
mrs witterstein-sülberg from the "fachhochschule aachen" uses wellboard for her mobile tables which vary in size and can easily be piled up. there are many different ways to use them, for example as shelves.
passages 2002
takes place: "rheinauhafen" cologne, building dock 11 (next to the museum of sport), 2nd floor
from monday, 14th january to sunday, 20th january 2002 opening hours: 11:00 a.m. to 8 p.m., tuesday and thursday open until 10:30 p.m.
you will also find further information under www.oekocontrol.com