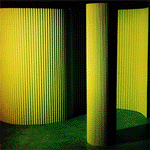 students of the university of weimar investigated under the leading of prof. johannes grossmann the effect of coloured light on various surfaces.
the experiment has been carried out with four coloured lights (yellow, red, green, blue). the results show that, with its linear, round and even surface, wellboard enables an exciting light-colour structuring.
the carton colour and the slightly light surface is an excellent carrier of coloured light – this is true for direct lighting as well as for coloured shadows.
the coloured appearances look natural, are varied and differenciated -particularly on the warm parts. but also on the cold contrasting part there are a lot of creation possibilities.
according to prof. grossmann, wellboard offers in combination with coloured light interesting creation possibilities. therefore it is very well appropriate for light-productions in stores or on fair stands.
prof. johannes großmann
kollbruchweg 33
d-18209 bad doberan
tel.: +49 – 38203 – 14242
fax: +49 – 38203 – 14242